Roof Replacement in Indianola & Des Moines IA
ARRANGE FOR A ROOF REPLACEMENT SERVICE IN INDIANOLA, IA, DES MOINES, IA, AND THROUGHOUT CENTRAL AND SOUTHERN IOWA
Roof Replacement in Indianola & Des Moines IA
ARRANGE FOR A ROOF REPLACEMENT SERVICE IN INDIANOLA, IA, DES MOINES, IA, AND THROUGHOUT CENTRAL AND SOUTHERN IOWA
Is your roof old and wearing out? Was it severely damaged in a storm? When your roof is compromised, you can't afford to wait for a replacement. Call Haus Roofing and Construction Services for a roof replacement service so you can keep your home or office protected.
We provide residential and commercial roofing services in the Indianola and Des Moines, IA, and throughout Central and Southern Iowa. From metal, slate, and tile to a traditional shingle roof replacement, you can rely on us to replace any type of roof.
Schedule a roof replacement service by calling 515-961-7180 now.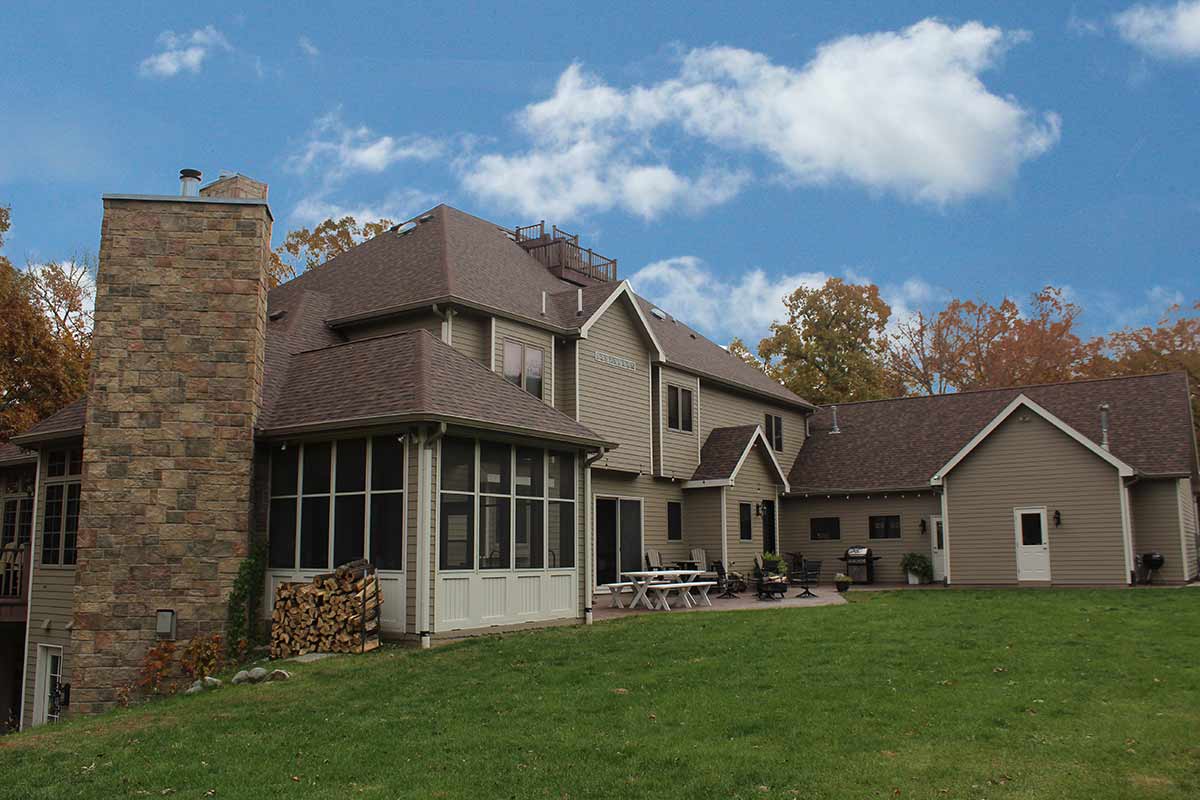 Signs That It's Time for a New Roof
Before you even reach out to a contractor like Haus Roofing to talk about taking on this project, you can spot signs on your own that the time is right for a new roof to be added to the home. Some of the common signs you might notice include the following –
Time has passed. One of the easiest ways to determine that you need a new roof is simply by looking at the calendar. How much time has passed since the current roof was installed? Or, if the roof is original to the building, how old is the structure? As a good rule of thumb, if the roof is more than 20 years old, you'll want to at least think about the possibility that a replacement is in order. 
Leaks in the attic. This is a pretty obvious point, but one that many homeowners miss because they never bother to go up into the attic in the first place. Take a moment to head up to the attic to have a look around and see if there are any signs of leaks. You don't need to find a big puddle to be concerned – even if you can see small bits of light coming through the roof, those openings could be indications of bigger problems ahead. 
Growth on the roof. Step back a short distance from your home so you can see clearly up onto the roof – do you see anything growing? There shouldn't be growth like moss up on the roof, and if there is, that's a sign that more moisture is present than should be the case. Repair work might be able to deal with this issue, but it's also possible that a replacement will be your best bet. 
As a building owner, one of the best things you can do is simply pay attention to the health of the structure as a whole, including the roof. When you see signs that problems are developing, bring in a professional team right away to have an inspection completed and decide on the appropriate course of action. 
Your home or store will also be better protected from the elements. Get roof replacement services in Indianola or Des Moines, IA, and throughout Central and Southern Iowa by contacting your friendly neighbors at Haus Roofing & Construction Services at 515-961-7180.  
BENEFITS OF A FULL ROOF REPLACEMENT
You might consider trying to fix your damaged roof with simple repairs. This might be a good temporary solution, but a full replacement will give you complete peace of mind. Consider a tile, metal, or shingle roof replacement because:
You can update your old roof with a modern energy-efficient design that will help reduce your heating and cooling bills. Some of the cost of the project will be offset by the savings that you will start to enjoy as soon as the project is completed and your HVAC system doesn't have to work as hard to keep the space comfortable. 
Your new roof will be much less likely to need repairs in the near future, saving you the expense and hassle of additional roofing work. When you opt to repair an old roof, it's likely that the need for repairs will just keep coming – and that's a pattern that gets old in a hurry. 
A new roof will look more appealing than your old one, increasing your curb appeal and improving your property value. You might not be thinking about selling the property now, but that day will likely come at some point, and you will stand to recoup some of your investment thanks to the elevated property value that now exists. 
By replacing your old roof with a completely new one, you can set your worries to the side and know that the inside of your house is going to be protected for decades to come. It's easy enough to argue that the roof is the single most important element of a home, as nothing else can do its job unless the roof is up to the challenge of protecting the building from everything Mother Nature has to offer. Get started on this project today and gain the peace of mind you deserve.